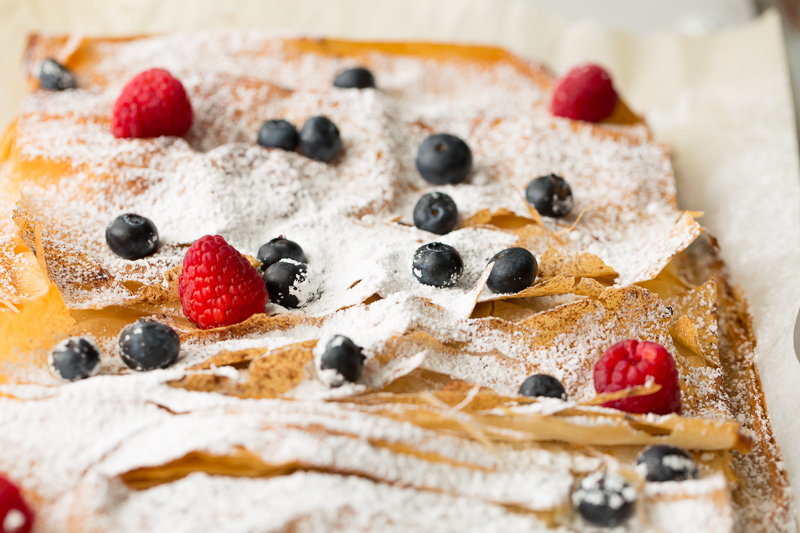 THIS RECIPE IS NOT GLUTEN FREE AS WRITTEN.  I WILL CONVERT AND UPDATE SOON.
Changes are coming…
Before I get to these delicious very berry phyllo bars, I'd like to announce we have made a big decision this week as a family.  After being in our home for almost three years, it is time for more space.  My husband is extremely ready to get going with the house hunting.  I'm a little less gun ho.  I love my neighbors currently and this is my son's home.  He has his playmates close and its so nice being able to shoot a text to my neighbor and meet in the backyard for a play date.  I don't even have to clean my house for her to come over!  lol.  All you stay at home mom's know what I mean!  It seems absurd, but a lot of times we rush to clean our house before other mom's come over with their little's for a play date.  Afterward, we have to clean again anyways. Ugh, redundant.
Anyone's toddler clean up after themselves?
As a side note, does anyone's toddler clean up completely and correctly?  If so, please email me you exact routine and how you have achieved this monumentous goal because I'm failing miserably in this department.  Logan is getting much better, but still he's only three years old.  Not a whole lot can keep his attention for long.  Certainly not cleaning.  Honestly, it doesn't really hold my attention either, only sheer willpower gets it done!
Selling vs. Renting Out
On the plus side I think we are keeping our current house and renting it out when we move.  I'm so happy I don't have to worry about contingent sales or showing my house.  Major kudos and admiration for all the mamma's that have little ones and keep their houses pristine for showings.  As if your life isn't hectic enough with kids and trying to get ready for a move.  Great job!
Guys, I'm picky…
Now, about finding a new house.  I'm picky guys and I love my current floor plan.  I just wish it had a second story.  The ranch style just isn't a favorite of mine.  I have a husband who works from home and when he is on a conference call and my toddler is playing and being loud on the other side of the wall things get difficult.  No one wants to hear a toddler's meltdown when talking to their web developer.
It's all about that kitchen
I obviously want a great kitchen.  Space is a must and great appliances are non negotiable.  An outdated kitchen is not going to fly.  My other need, OK, want is a laundry room.  Laundry closets are horrible!  Only small washer and dryers fit and with a family you really have a lot of laundry to do.  A utility room/laundry just makes life easier.  A big washer and dryer means less loads for this mom.  A utility room (hopefully) means no more piles of shoes stacked at my front door too.  Muddy shoes can go there and be out of the way!  WooHoo!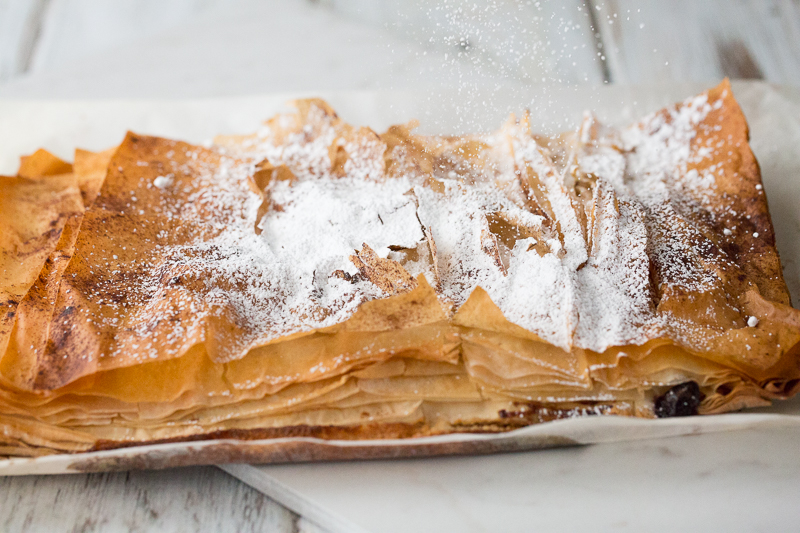 Very Berry Phyllo Bars
Speaking of kitchens, I need to get back to these very berry phyllo bars.  This recipe is similar to last week's Blue Raspberry Cheesecake Turnovers.  They both were made and tested the same day to be my 4th of July recipe.  They both were so good I just couldn't choose.  Neither could anyone else I asked.  So….You get both!  And I ate a ton…oops.  I would like to send a shout to my neighbor who so graciously took the leftovers off my hands and saved me from loads of guilt.  Let's be real.  I was not going to the gym to work them off so I wasn't going to feel good about eating the whole sheet of bars myself!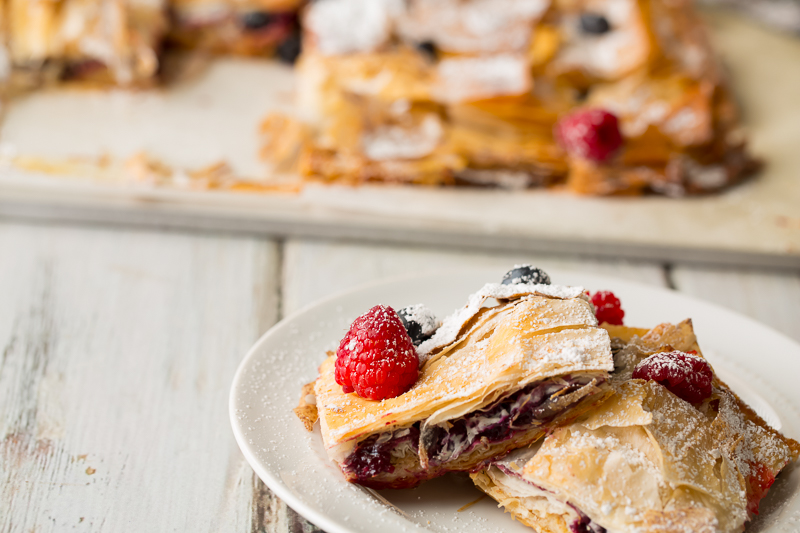 The filling and the cheesecake layer are actually the same recipe.   Blue Raspberry Cheesecake Turnovers are made with puff pastry in lieu of  phyllo pastry sheets.  It's actually a great way to switch it up and offer guests two desserts instead of one.  All with virtually no extra work from you.  Sounds good, huh?  You look like a kitchen goddess and no one is any wiser.  Just don't tell!  They will never know you didn't slave all day in the kitchen and had time for a nap!  To make both just make the filling recipe as is and use half of it for turnovers and half for the very berry phyllo bars.  There will be 1 sheet of very berry phyllo bars and 4 (more if you cut them smaller) blue raspberry cheesecake turnovers.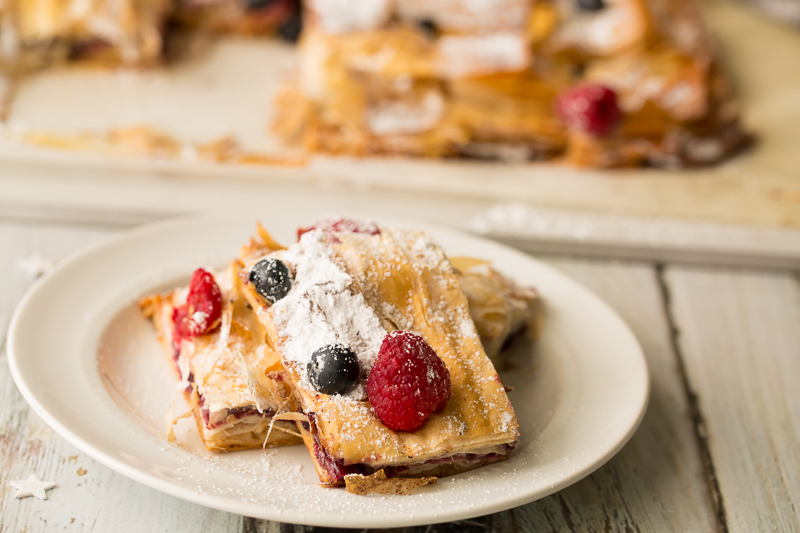 Let's get baking these very berry phyllo bars
To prep, preheat oven to 350 degrees and thaw phyllo sheets.  When pastry sheets are thawed, separate and spray them with Chosen Foods Avocado Oil Spray, 4.7 Fluid Ounce
">avocado oil.  You don't have to spray each layer, but every few is what I usually aim for and it turns out well.  about 1/3 of the way through your phyllo layers, add your cheesecake filling (below).  Add a few more layers of oiled phyllo sheets and add your berry filling (below).  Oil and layer the rest of your pastry sheets.  Be sure and give the top layer a good spray so it will crisp.
Berry Filling
To make the berry filling, gather your ingredients and wash the berries.  Once washed, the berries go into a small pan with sugar, brown sugar, butter, LorAnn Oils Madagascar Vanilla Bean Paste, 4 Ounce
, Simply Organic Ground Cinnamon, 2.08 Ounce
, and lemon juice.  Allow this to cook down until the berries break down and the mixture thickens.  Add 1 tablespoon of cornstarch and cook until consistency thickens further.  Take off the heat and allow to cool.
Cheesecake Filling
Gather the cream cheese, vanilla bean paste, sugar, egg, and cinnamon.  With a mixer, mix cream cheese and sugar until creamy.  Add egg and mix.  Now add the vanilla and Simply Organic Ground Cinnamon, 2.08 Ounce
and mix thoroughly.  The fruit mixture and cheesecake mixture are now ready.
Into the oven they go…
And out they come in 30 minutes.  Allow to cool for 15-20 minutes.  Garnish with powdered sugar, blueberries, and raspberries.  Voila!  Cut and serve.  Be ready for the praise, these ARE that good!  Enjoy!
What is your favorite holiday dessert?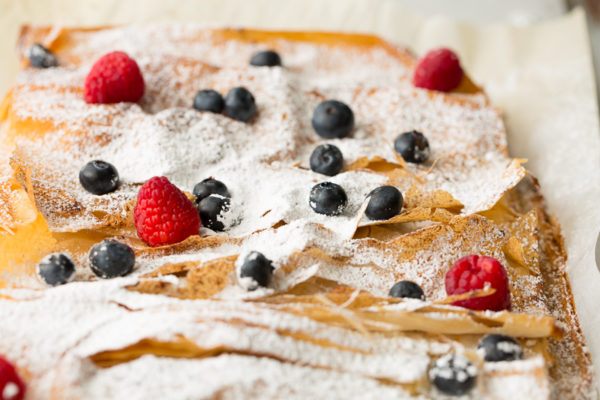 | | |
| --- | --- |
| | |
Take out phyllo dough, cream cheese, and butter to thaw/soften
Preheat oven to 350 degrees
In a pan, add sugar, brown sugar, vanilla, berries, lemon juice, and cinnamon

Cook about 10-15 minutes, stirring occasionally, until the fruit breaks down and the filling thickens

Stir in the cornstarch and cook for another 5 minutes or so until filling is nice and thick

Take off heat and set aside to cool
While the berry filling is cooling gather the cheesecake ingredients

In a large mixing bowl, combine cream cheese and sugar

Mix with hand mixer until creamy

Mix until creamy; set aside
Assembling the Phyllo Bars
Gather your fillings, phyllo dough, and avocado oil spray

Line 2 baking sheets with parchment paper

Spray phyllo sheets (a few at a time) with avocado oil and place (in a stack) on baking sheet

When you have sprayed and layered 1/3 of the dough spread 1/2 the cheesecake filling over the top phyllo sheet

Continue spraying and layering phyllo sheets until you have a about 15 or so sheets over the cheesecake filling

Spread the 1/2 berry filling over the phyllo dough

Spray and layer the remaining phyllo dough

Repeat process for second baking sheet

Bake at 350 degrees for 30 minutes

Garnish with powdered sugar, raspberries, and blueberries

Cut each pastry into 12 bars and serve
THIS RECIPE IS NOT GLUTEN FREE AS WRITTEN.  I WILL CONVERT AND UPDATE SOON.