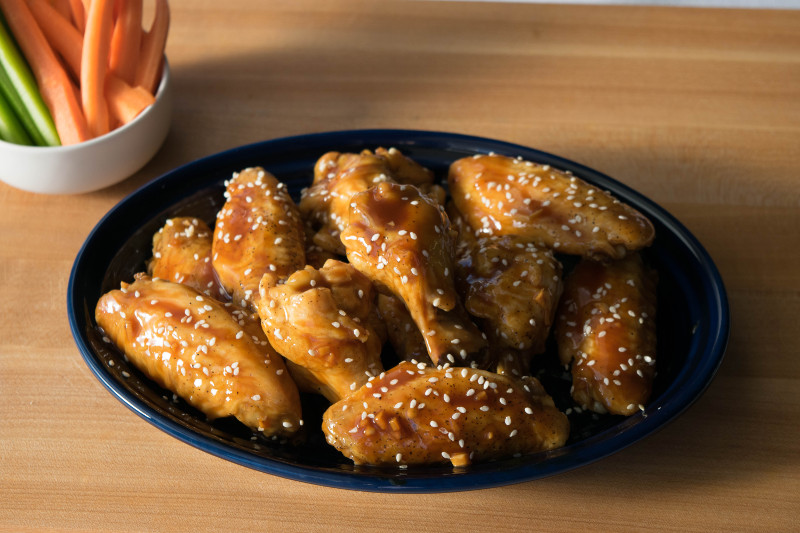 This post may contain affiliate links that help support my blog
March madness is in full swing in North Carolina.   What is the perfect food for watching sports?  Wings.  Hands down.  Maybe a beer or two as well.  In my household wings are a hit any night of the year.  They are my husbands' favorite next to BBQ.  It only seems appropriate to whip up some homemade sauce to make teriyaki wings!  Even my brother happened to "stop" by once he found out I was making wings.   This sauce was met with raving accolades.  I hope you enjoy it as much as we do!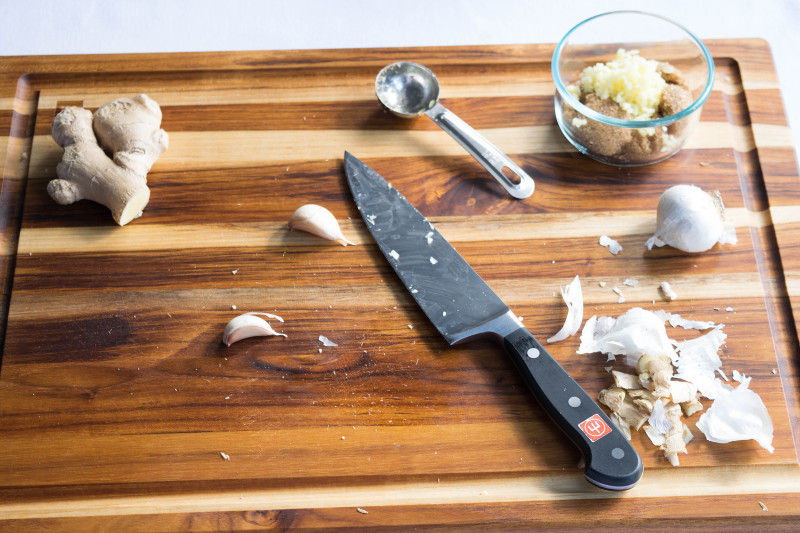 Begin by mincing ginger and garlic and setting them aside in a bowl.  Be sure to use heaping tablespoons.  So much of the flavor is built at this step.  Add brown sugar, firmly packed, to the bowl.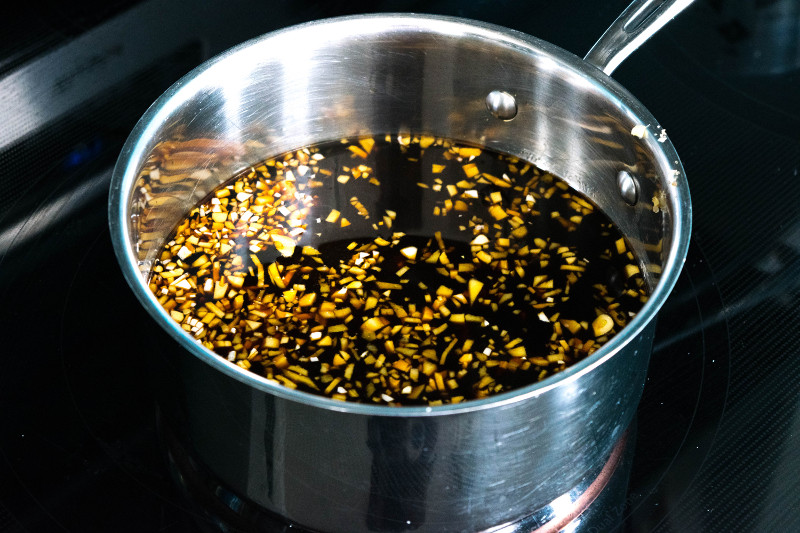 Next, place a pot on the stove and turn to medium heat.  Add soy sauce, vinegar, and pineapple juice.  Stir.  Add the ginger, garlic, and brown sugar.  Stir.  Add a pinch of red pepper flakes (more if you like things on the spicy side).  Bring to boil and reduce to low and simmer.
While your sauce is simmering bake wings in a preheated 400 degree oven.  I like to use this pan.  Using a two pieced pan set like this allows air to circulate making the chicken crisp rather than soggy.  No one likes soggy wings!  Season with salt and pepper and bake for about 20 minutes.  Chicken is fully cooked once it reached 165 degrees internally.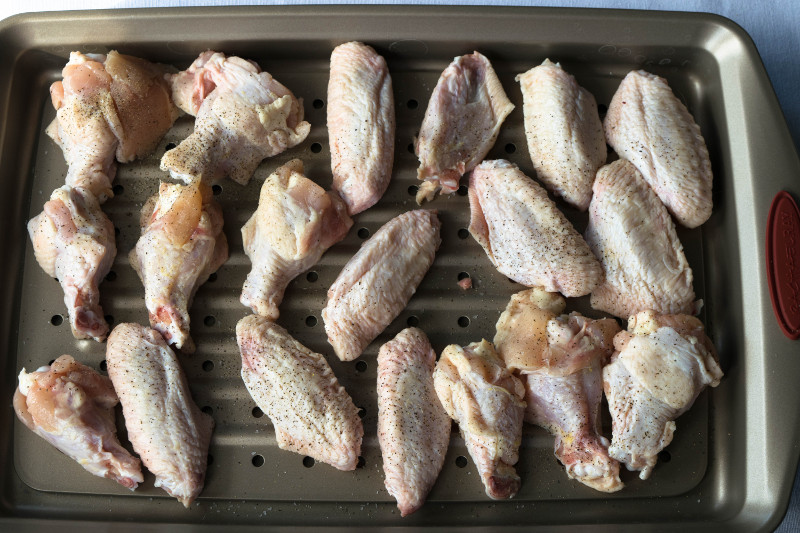 Time to make your sauce a glaze!   Thicken the sauce by creating a slurry using pineapple juice and cornstarch.  Mix well to avoid lumps and pour slowly into the sauce pot.  Stir to incorporate the slurry completely.  Let the sauce cook for about 5 more minutes.
Finally, once your chicken is cooked and cooled, it is time to glaze your wings.  You can do this one of two ways, individually or in groups.  I started individually but quickly lost patience.  I added about 5 or 6 wings to the pot at a time and made sure they were covered in sauce.  Then, using tongs I fished them out and placed them on a platter.  Repeat until all are glazed.  Garnish with white sesame seeds and serve with veggie sticks if you would like.  Or beer. There is just something about wings and a beer.  They belong together!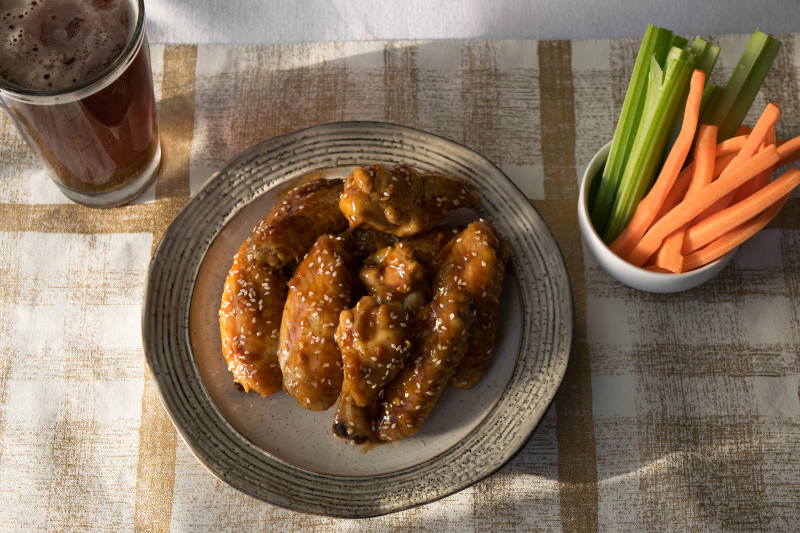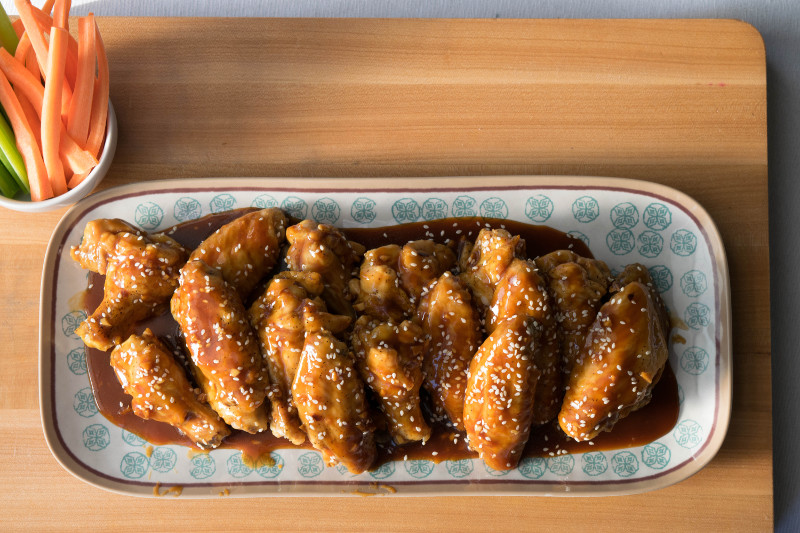 What is your favorite wing sauce?
Ingredients
2 packs of wings/drummettes
1 cup Gluten Free soy sauce (or GF Tamari), low sodium
1 heaping TBSP fresh ginger, minced
1 heaping TBSP fresh garlic, minced
4 TBSP pineapple juice
2 TBSP brown sugar, firmly packed
1 TBSP rice vinegar
1/8 cup corn starch
1/8 cup pineapple juice
pinch of red pepper flakes
salt
pepper
white sesame seeds, garnish
Instructions
1
Preheat oven to 400 degrees
2
In a pot, combine soy sauce, vinegar, garlic, ginger, sugar, 4 TBSP pineapple juice, red pepper flakes, and brown sugar
4
Bring to boil over medium heat
6
Place wings on baking sheet and season with salt and pepper
7
Bake wings for about 20 minutes (internal temp of 165 degrees when done)
8
While wings are cooling, create a slurry with the remaining pineapple juice and cornstarch (mix thoroughly)
9
Add slurry to sauce and stir
10
Cook sauce for another 5 minutes
11
Glaze wings and place on platter
12
Garnish with sesame seeds