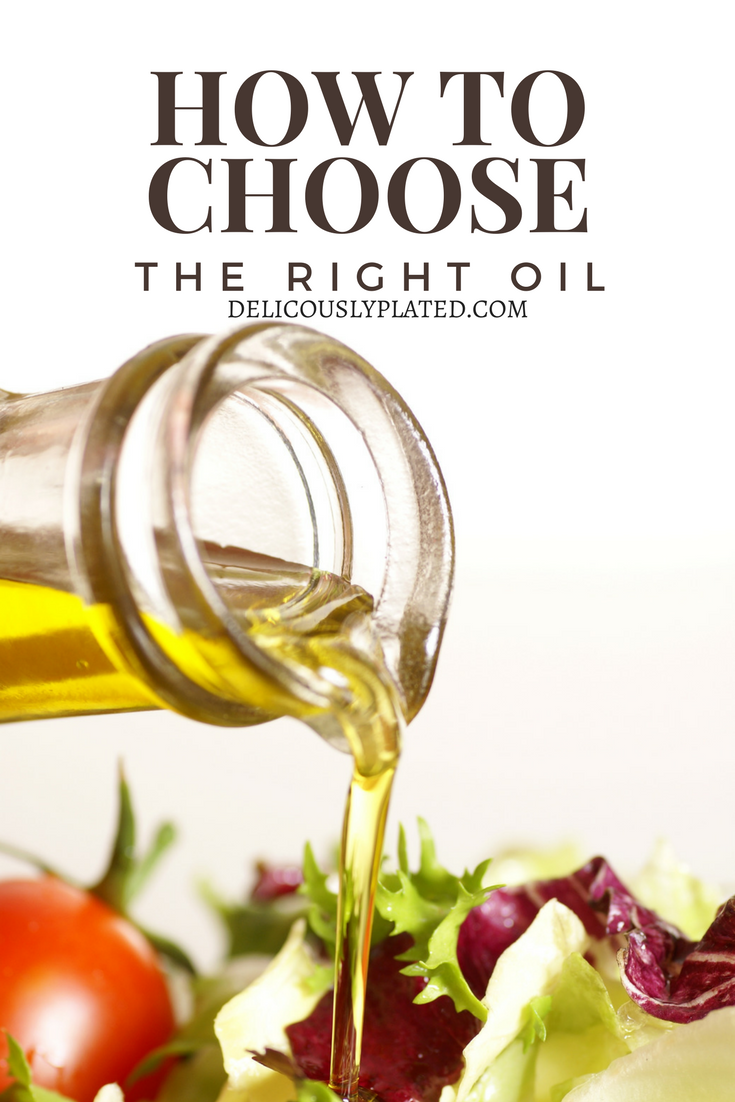 Cooking with Oil
Let's put the myths aside for good. Used effectively, intentionally, and rationally oils are not only good for you and your waistline but are a necessary and vital part of the human diet. Oils aid in maintaining and supporting essential immune and cardiovascular functions and play a key role in the workings of the nervous system. Oils also promote nourished skin and hair. If this roll call of benefits isn't enough for you to consider that oils make food taste better, plain and simple. They add dimension, density, and texture to the food we eat. Try cooking a stir-fry without any oil and you'll feel your taste buds protest. Today I want to discuss some of the most popular consumer cooking oils and the best practices that dictate their use.
Oil and its Uses
Oil is a shapeshifting addition to any kitchen. It can be used in nearly any facet of cooking and is a necessity when it comes to making delicious food. Different oils can be used in low, medium, and high temperature situations. Here is a cursory look at some of the practical reasons you want oils in your kitchen.
Oils enhance the flavor of food, either by imparting their own unique flavor properties or by enhancing the unique blend of spices and ingredients in any particular dish

Oil absorbs heat and allows you the capacity to cook at high temperatures. The boiling point of water is 212° Fahrenheit. Above this temperature, water will become vapor. Oil gives us the flexibility to sauté, fry, and baste foods at a wide range of heat settings

Research has indicated that biology is to blame for the human desire for fatty foods. The researchers dubbed fat (the key compound in oil) as the 'sixth taste modality'!
Oil and Fat
A lot of the bad rap oils get are due to their high fat content. Fat has an undeserved reputation for being harmful and negative. The larger picture is more complex. Organizing fats under the categories of 'good' and 'bad' may seem slightly rudimentary but it is a solid starting point for understanding fats and how they interact with our bodies.
Bad fats have a detrimental impact on the health of our cardiovascular and immune system. Bad fats contribute to higher cholesterol and can add physical weight to our bodies, particularly around the middle, where storing fat can have the most damaging long term impact on health. Saturated fat and trans fats are examples of bad fats that should be significantly reduced in the human diet. Saturated and trans fats are distinguishable because they are slightly solid, and clumpy, at room temperature.
Good fats, on the other hand, support cardiovascular health and can reduce the risk of heart disease. Healthy fats like Omega 3 and 6 fatty acids also have anti-inflammatory properties that keep cells functioning properly. Health fats are absolutely vital for maintaining nervous system function. Monounsaturated and polyunsaturated fats are liquid at room temperature.
One Size Does Not Fit All
There are hundreds of varieties of oils, some popular, and some obscure. Each type of oil is unique and can serve niche purposes in the kitchen. The differentiation between oils comes down to a couple of key factors, namely flavor profile and smoke point.
Smoke Point
The smoke point is perhaps the most important distinguishing feature of any given oil. It refers to the temperature at which an oil begins to smoke. Understanding an oil's smoke point is vital because smoke indicates that the oil has begun to break down and become unstable. This instability releases free radicals that are damaging to the immune system and can have unwelcome consequences for your health.
The smoke point dictates which oils should be used for any given purpose. High heat activities like frying must be executed with an oil that can stably withstand high temperatures, without deteriorating or becoming unpredictable. Oils with higher smoke points, such as vegetable oil, peanut oil, and sesame oil, are appropriate for a range of dishes, particularly when the dish requires high heat. Think frying or crafting the perfect stir-fry.
Flavor Profiles
Oils often take on the taste, or a hint of the taste, of the whole foods they have been derived from. While this may appear self-evident at first glance, oils are much more subtle than their whole food counterparts and interact with other foods in unexpected ways. Many oils have a flavorless taste, making them suitable for a wide range of cooking styles. Understanding the subtle taste differences between oils will be a boon in your culinary undertakings.
To Each Their Own
Taking smoke point and individual flavor profiles into account gives us an educated understanding of which oils work best for all of our cooking needs. Let's break it down and meet some of the most popular consumer oils and learn how they can be incorporated into your kitchen routine.
Avocado Oil
Smoke Point: Refined avocado oil has a high smoke point of 520°
Flavor Profile: Avocado oil is a complex, and until recently obscure, oil that has been enjoying a moment in the sun. Avocado oil has a very mild nutty, buttery taste that makes it a wonderful choice for anything from spring salad dressings to baking.
Perfect For
Drizzling over salads

Adds delicious density to taco salads

Complements heartier salads featuring greens like kale and spinach

Drizzling over baked bread

Pair with some salt, Italian herbs and fresh pepper for a gourmet dipping experience

Roasting veggies

A more subtle alternative to coconut oil for sauteing and roasting

Pan frying lean white meats like chicken and turkey

Mexican cooking

Guacamoles

Baking

Alternative to butter for homemade popcorn
Good to Know: Avocado oil contains 70% heart loving oleic acid making it a wonderful way to add beneficial fats to your diet
Canola Oil
Smoke Point: Refined Canola oil: 400° / Semi-refined canola oil: 350°
Flavor Profile: Canola oil has a mild taste that is hard to distinguish in complex dishes. Some cold pressed varieties have a delicately nutty taste while some have a slightly sweet, floral taste. Generally speaking, though, most consumer canola oils have a non-discernible flavor.
Perfect For
Drizzling over salads or as a component in salad dressings

A light drizzle of canola oil offers body to a lighter garden salad or as a component in thicker salad dressings like caesar and thousand island.

Baking

Less forcefully flavored than some other oils, canola oil blends perfectly into baked goods like cakes, cookies, and brownies

Making homemade dips

Canola oil is a great compositional oil in ranch sauces and mayonnaise

Pasta and Italian dishes

A drizzle of canola oil adds density to pasta dishes without any distinct flavor that may compromise the delicate balance of ingredients

Stir fries and noodle dishes

Canola oil has a high enough smoke point that it can be used in stir-fries effectively. Canola oil is a great substitute for more robustly flavored oils like peanut and oil. If you want the spices and sauces in your stir fry to take center stage, canola oil is a suitable choice.

Curries

Because canola oil adds density it is a wonderful choice for harmonizing dishes with bold flavors, like Indian curries or Mexican rice dishes

Sauteing white and red meat

Mexican cooking
Good to Know: Canola oil contains a nice dose of omega 3 and omega 6 fatty acids, which reduce inflammation and promote heart health

Coconut Oil
Smoke Point: 350°
Flavor Profile: As you might assume, coconut oil retains the taste of its whole food counterpart, albeit in a much softer and more delicate iteration. Coconut oil is smooth and silky, with the slightest suggestion of sweetness. Its light flavor lends it perfectly to such complex tasks as frying and baking cookies.
Perfect For
Baking

A nice substitute for those who want to avoid highly refined and processed oils, coconut oil imparts your baking with a mildly sweet coconut taste.

Seafood dishes

Coconut oil pairs delicately with white fish and with seafood like scallops and prawns. Because of its high smoke point, it can be used to impart a mild sweet flavor to fried calamari or shrimp in lieu of using more refined oils.

Stir fries and woks

Curries

Frying
Good to Know: Coconut oil has an interesting composition and is more resistant to oxidation than other oil varieties. That is why coconut oil is a perfect choice for high temperature frying and cooking.
Sample Recipes
Flaxseed Oil
Smoke Point: 225°
Flavor Profile: Flaxseed oil has a subtly sweet and nutty flavor profile
Perfect For
Salad dressing

Flaxseed Oil: High in beneficial alpha-linolenic acid, flaxseed oil has a mild nutty taste making it an appropriate topping for salads that incorporate pecans, walnuts, and shredded almonds

Adding thickness and texture to smoothies (especially green smoothies!)

I love putting a tablespoon in smoothies for some added density and to get some healthy fats in my diet

Raw food cooking
Good to Know: Flaxseed oil is amazing for your digestive system
Sample Recipes
Olive Oil
Smoke Point: Refined can range from 390-470°, Virgin has a smoke point of 410° and extra virgin has a lower smoke point of 375°
Flavor Profile: Olive oil comes in a plethora of varieties as any visit to a trendy olive oil tasting shop will quickly reveal. Standard extra virgin olive oil has a dense texture and a slightly peppery, bitter taste. Antioxidant compounds polyphenols and tocopherols are responsible for this desirable flavor profile.
Perfect For
Pastas and Italian cooking

I love olive oil for how it delicately complements traditional marinara, rose, and alfredo pasta sauces. Cooking pasta aglio olio is a wonderful way of letting the dimensions of olive oil mingle with herbs and garlic to create a simple and light meal

Salad dressing

Perfect for adding a nutty texture to Caprese, Greek, and spinach salads or mixing with a vinaigrette for a beet and feta salad

Dips

A drizzle of olive oil does wonders in adding body and dimension to hummus, artichoke dips, and baba ghanoush

Sauteing vegetables

Perfect for lightly sauteing vegetables on a low to medium temperature

Basting chicken

Try basting chicken with extra virgin olive oil, rosemary, and garlic. It's a light option that has rewarding and tasty results

Drizzling over seafood

Saute or lightly pan fry red meat with herbs and olive oil for a simple meal

Perfect for vinaigrettes and for creating a simple olive oil and vinegar base for dipping bread
Good to Know: There are thousands of 'micro varieties' of olive oils and EVOO snobs consider tasting and cultivating an appreciation for the nuances between types to be akin to wine tasting!
Peanut Oil
Smoke Point: 440°
Flavor Profile: Despite being derived from peanuts, this oil is mild, with a hint of nutty flavor. It can enhance complex stir fry dishes but is neutral enough to be a good oil choice for frying. Some varieties are close to being flavorless, making this a versatile oil.
Perfect For
Stir Fries

With a high smoke point, this oil adds a depth to stir fries. It tastes particularly harmonious when paired with peanut sauce, peanut shavings, green onions, and bok choy

Tofu dishes

Tofu is renowned for soaking up the flavor notes of it surroundings. Letting it marinate in a peanut oil mixed with some peanut sauce before frying or sauteing creates a well rounded and satisfying savory flavor

Spring Salads

Frying

Chicken wings, strips, and nuggets

Sauteing Vegetables
Good to Know: Peanut oils come in a variety of styles that include cold pressed, refined, unrefined, and roasted. For a more bold and nutty flavor pick up some roasted peanut oil! It's a perfect companion to a sweeter and saltier peanut sauce
Safflower Oil
Smoke Point: Safflower oil comes in two main varietals. High oleic acid monounsaturated safflower oil has a high smoke point. High linoleic polyunsaturated acid safflower oils are best used for low temperature cooking. High oleic safflower oil has a smoke point around 500°F while high linoleic safflower oil has a significantly lower smoke point of 225°F
Flavor Profile: Generally flavorless and adaptable to a range of cooking needs
Perfect For
Stir-Fries

The monounsaturated variety is well suited to high temperature cooking like stir-fries and woks

Homemade salad dressings

The polyunsaturated version serves as a tasteless oil to drizzle over green salads or mix into homemade salad dressings for added density

Pan frying lean meat

The monounsaturated variety is perfect for pan cooking chicken, red meat, and seafood dishes

Pan frying seafood

Woks

Curries

Baking

Sauteing vegetables
Good to Know: Safflower oil contains high quantities of heart healthy unsaturated fats. Oleic safflower acid has high Vitamin E content!
Sesame Oil
Smoke Point: 410° (unrefined sesame oil has a smoke point of 350°)
Flavor Profile: Sesame oil has a robust and unmistakable taste, making it a dual action oil that works as both a base and a flavoring element in itself. We love how sesame oil interacts with vegetables, tofu, and rice, making it the perfect oil for sauteing, stir-frying, and rice bowls.
Perfect For
Stir fries

Sesame oil lends a decisive and appealing taste to stir-fries.

Noodle dishes

Sesame based noodle dishes featuring vegetables like broccoli and wilted spinach are perfectly suited to the flavors of sesame oil

Asian salads

Drizzle sesame oil on shredded carrots, cabbage, and wontons for a fresh Asian inspired salad

Marinating tofu

Sesame oil is a perfect marinade for tofu dishes. Saute for a rich and nutty taste or fry the tofu for a vegetarian take on Super Bowl cuisine.

Sauteing green veggies like broccoli and kale
Good to Know: Sesame oil contains an antioxidant compound called phytate which helps support healthy, robust cells
Sunflower Oil
Smoke Point: Soybean-based vegetable oils have a smoke point of about 320° / 450
Flavour Profile: Sunflower oils are considered to be a flavorless and nondescript oil. It is rich in healthy fats like polyunsaturated and monounsaturated fats, offering density and texture to food without any distinguishable flavor
Perfect For
Baking

With a high smoke point and a subtle flavor, sunflower oil is perfectly suited to baking. You can bake cookies, cakes, tarts-whatever your heart desires really- without the conspicuous aftertaste of oil

Mexican cooking

Sunflower oil can be used in Mexican dishes like tacos and quesadillas without adding any distinct flavor

Light pan frying of lean white and red meats

Sauteing vegetables
Good to Know: Sunflower oil contains Vitamin E, phenolic acid, and lignans
Vegetable Oil
Smoke Point: 450°
Flavour Profile: Fatty and dense in texture, but generally mild to flavorless in taste, making vegetable oil a go-to for a crazy variety of dishes
Perfect For
Lasagnas and meat pies

Because it has a dense texture it complements hearty dishes like lasagnas and meat pies without adding any distinct flavor

Frying

Vegetable oil is a top choice for high temperature frying. Whether that be potato fritters, hash browns, or homemade donuts, vegetable oil holds up well in these high heat scenarios

Baking

It has a denser consistency than some other oils we have profiled and its fairly nondescript taste is well suited to baking treats like cookies, shortbreads, and cupcakes

Tempuras

One of the most popular choices for tempura recipes (which require an oil with a high smoke point)

Starchy vegetable dishes

Works harmoniously with starchy vegetables like potatoes and butternut squash

Chicken strips and wings
Good to Know: Vegetable oil is not made from any specific veggie! Rather it is comprised of different constituent plant compounds. Common constituents include soy, corn, safflower, and peanut!
Choosing and Storing Oils
Choosing the most appropriate oils for your kitchen comes down to the type of cooking you like to do. Besides remaining aware of the smoke points of the different oils and their respective flavor profiles the key factor in purchasing your oils is knowing your cooking style. For those who love to cook and consider it an important part of their lifestyles, a repertoire of different oils will be most suitable.
Oils go rancid after a few months so I recommend buying oils in smaller portioned bottles, particularly for the oils you use for the occasional curry or cake. If you cook a certain type of food more frequently than it is certainly more economical to buy a larger bottle of oil. I would recommend having a large reliable multi-purpose oil like canola, safflower, or extra virgin olive oil on hand for frequent cooking.
Once purchased oils should be stored at room temperature. A dark, dry cupboard or shelf should suffice.
I hope this guide was informative and provided some guidance for your next trip to the grocery store. Happy cooking!