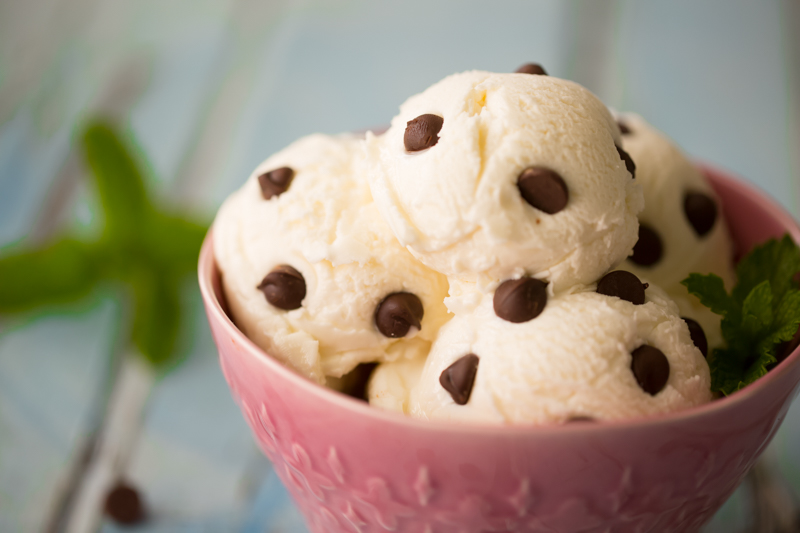 T minus Zero, Summer is upon us…
Summer is upon us.  The kids are home and out of school.  They are bored.  Already.  Can we even think about how many times we will be asked for snacks in the upcoming weeks?  Yeah, I don't want to think about it either, lol.   While considering this question Buzz Lightyear comes to my mind.  "To infinity and beyond".  Yeah, infinity, that sounds about right.  That's a lot of snacks.  Have an answer ready this summer with this homemade mint chocolate chip ice cream with fresh mint.  Whether it is in a bowl, a cone, or an ice cream sandwich, this recipe is a winner!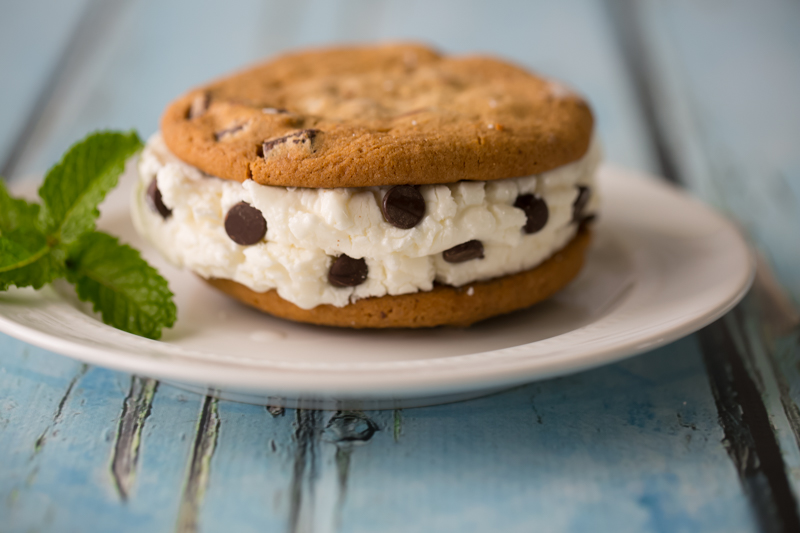 Summer seems to be a double edged sword when I'm talking to most mom's.  We love our children, but summer can cause some anxiety for us.   The workload for us mom's (or dad's)  goes up considerably.  More people home means more cleaning up and certainly more cooking.  I think we get used to having a little time for ourselves (and I do mean a little) while the kids are in school.
Vacationing with kids…
Summer used to be filled with sun and cookouts.  Maybe a few adult beverages if I'm being honest.  Hey, I had a life before having kids and I was fun.  I know, it is hard to believe  and remember those days sometimes.  Vacation means something completely different nowadays.  Bloody mary's are not for breakfast and I'm certainly asleep by 10pm.   Possibly a little earlier depending on how my day went.
Currently, I am trying to decide where to take a long weekend for my birthday.  My husband and I are both summer babies and this year we decided not to buy each other gifts but to go away for a long weekend instead.  With my three year old son.  Logan really isn't super difficult.  I am fortunate he is so sweet and polite (usually).  He does however still NEED his naps.  Planning must be done around those imperative naps too.  Complete transparency, I still NEED naps too.  Haha.  What this means is that wherever we stay needs to have activities close by.  That way we can get back to the cottage/hotel quickly.
Where to go…
I'm leaning towards the Outer Banks this year.  I've never been even though I've lived in North Carolina for 20 years.  Crazy, huh?  I have been to every other local beach I can think of though.  A cottage is more enticing than a hotel room at this juncture in my life.  It feels more like a home and gives us more space to roam.  I loved Bed and Breakfasts before having Logan.  Now, it's hard to keep Logan quiet enough to avoid bothering the other guests.
The other end of the vacation destination spectrum is the North Carolina mountains.   This is definitely a familiar area for my husband and I as we both went to college in Boone, North Carolina.  My son, however, has not been there yet.  For those of you local, Tweetsie Railroad is a great place for kids and families.  I worked there when I was in college and it really is great fun for all ages.  They even host Thomas Days.  During Thomas Days they switch out their traditional train for Thomas the Tank Engine.   Kids eat that up!  There is a sea of kids and awesome activities to keep them engaged.
Decisions Decisions….Either way, I'll bet there will be ice cream involved!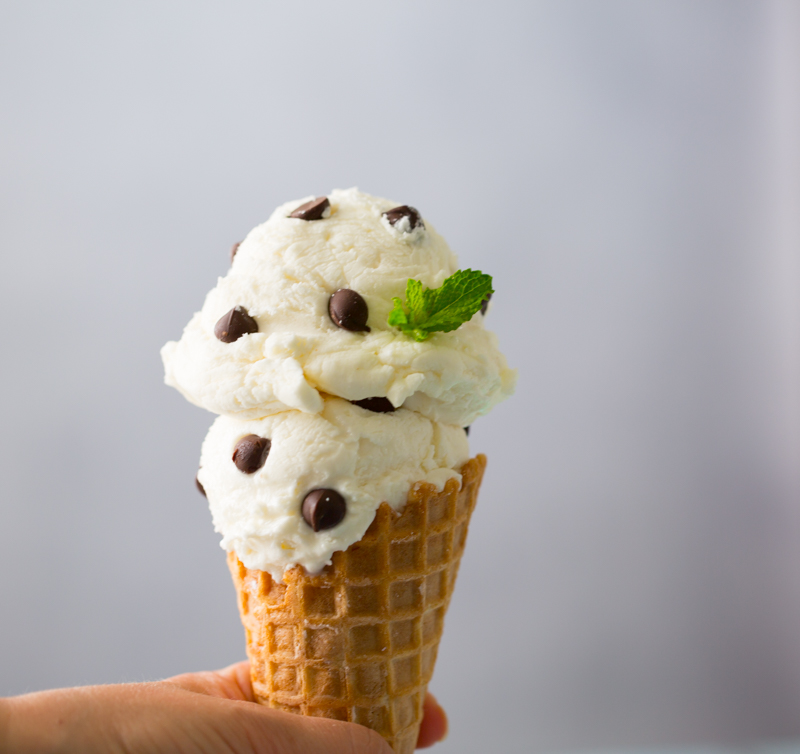 On to the Main Event…Mint Chocolate Chip Ice Cream with Fresh Mint
Mint chocolate chip is hands down my favorite flavor of ice cream.  Strawberry is a close second.  Peach comes in at a strong third.  I made this mint chocolate chip ice cream with fresh mint in my Cusinart Ice Cream Maker.  This thing is amazing!  I have a chest freezer in my garage and I keep the freezer bowl in there all the time .  This way I always have fresh ice cream at my disposal.  Who doesn't love fresh ice cream on a whim?!  This family does for sure.
This recipe begins with infusing warmed milk (bring to just below a boil) with fresh mint leaves.  I pick my mint from my herb garden outside.  Such a great way to save money.  Herbs are so aromatic too!  After washing the mint leaves I cut a small piece of cheese cloth and set the leaves in the center.  Gather the edges and, with butcher's twine, tie the ends together to make a pouch.  This way you do not have to strain the milk later.  LESS DISHES .  Keep your eye on the prize guys.  Treats and time with loved ones.  Not dishes.
Allow the mint to steep in the warmed milk for about 30 minutes.  It won't hurt if you go a little over.  Life happens.  Not a strict time line here.  The takeaway here is the longer it steeps the more intense the mint flavor will be.  Once the steeping is complete remove mint and mix in the sugar, salt, and vanilla.  Allow this mixture to cool in the refrigerator for about 2 hours.  Again, this isn't a strict timeline.  Overnight is fine and so is an hour and a half.  Chilling the mixture prepares it for the freezing process in the ice cream machine.  If you prefer firm or hard ice cream you may need to refrigerate overnight and/or make the day before and keep in the freezer overnight.
Now that we have chilled the mixture it is time to bring out the big guns.  The ice cream maker is getting its time to shine.  I promise this thing is super cool.  My son loves to watch the transformation into ice cream.   It is quite interesting to watch.  Be careful though not to drool on the machine while watching it!  LOL.  It's tempting, I know…
Pour the mixture into the machine and turn the switch to "ON".  Watch the magic happen and in about 10-12 minutes later you will have creamy and delicious mint chocolate chip ice cream with fresh mint.  You are welcome!!   I know, a bit presumptuous that you will thank me, but this recipe is stellar.  I have all the confidence in the world you will love it as much as we do!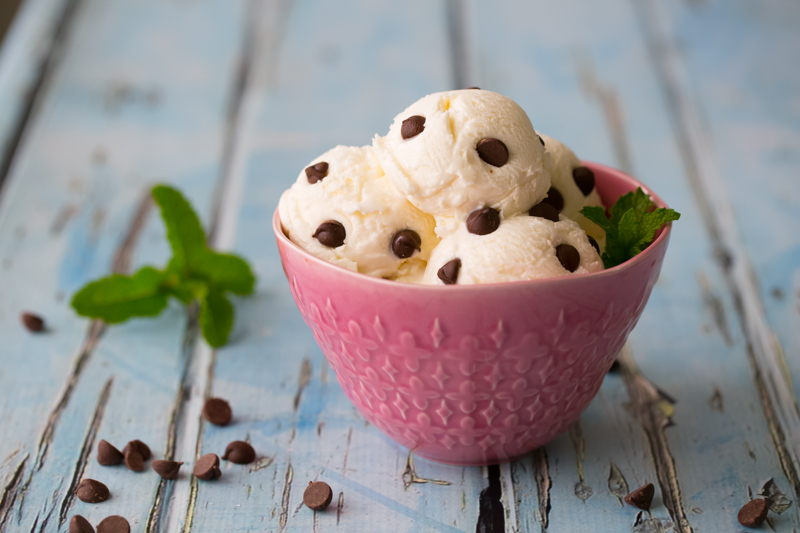 What are your favorite ice cream flavors?
**This post contains affiliate links.  By using these links you are helping to support my blog.  Thank You!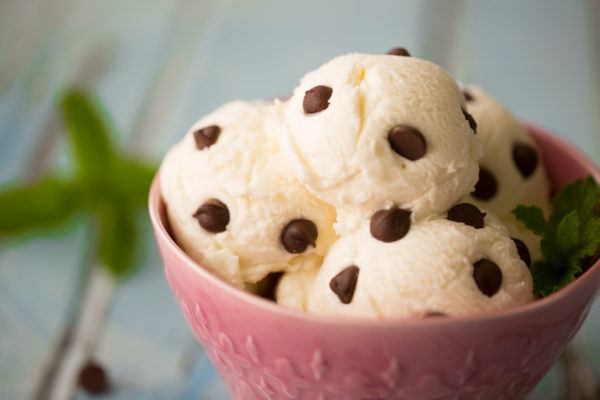 | | |
| --- | --- |
| | |
In a small sauce pan warm the milk to just under a boil

Using cheesecloth and twine, create a bag/pouch for the mint leaves

Add mint to warm milk and let steep for 30 minutes. Cover pot.

In a large mixing bowl combine infused milk, sugar, salt, and vanilla

Place in refrigerator for about 2 hours

Add mixture to ice cream machine and add the chocolate chips

Let ice cream maker run until the consistency thickens

About 10-15 min should be plenty of time

Freeze leftovers (if there are any) to enjoy at another time