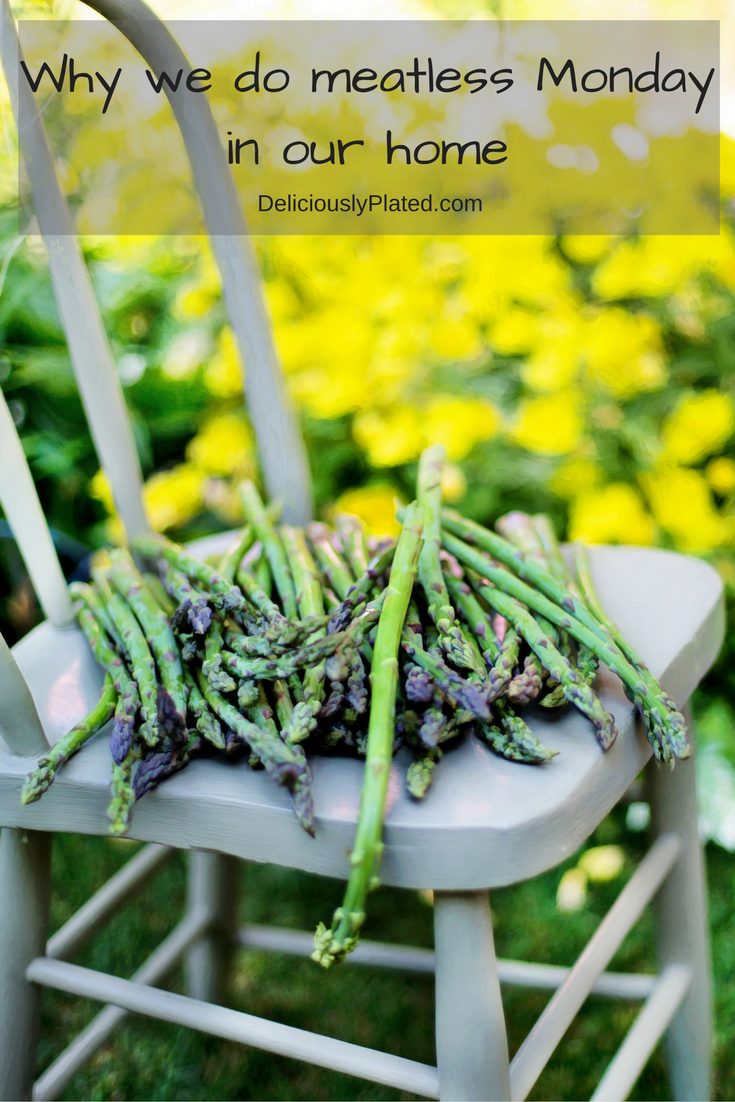 I have to say that I was blown away with the number of likes, posts and comments I got for my Veggie Primavera recipe – it seems like many people out there were interested in the meatless recipe and that truly is super quick and easy to whip up.
Long gone are the days when the popular school of thought was that every main meal had to have some form of meat protein in it. Along with a better understanding of food nutrition and vitamins has come the understanding that we are probably more often than not getting enough protein in your diet without always having to have a piece of steak on the dinner plate.
This is something that we strongly believe in my household and so every Monday, we make it a meat-free affair with meatless Monday. I've found it's a great way to challenge yourself and add new recipes and kitchen creations to your cooking repertoire if vegetarian cooking isn't something that you've done a lot of in the past.
Cutting down on your meat intake, even if only for one main meal each week, will not only do wonders for your bank balance, but more and more studies are showing that it also has a great effect on your overall health as well as the environment.
Here are six reasons why we do meatless Monday at home:
It can be better for your health – Eating more plant-based meals or having more of a plant-based diet, which is one that focuses on fruits, vegetables, grains, beans, legumes and nuts, can often be higher in nutritional value than your standard meat filled dish. As long as you're including an array of vegetables in your meal and not just sitting down to a big bowl of cheesy pasta, your meal will most probably be richer in vitamins, nutrients and fiber.
It can be lower in calories – A vegetarian or meat-less meal will often end up having fewer calories and contain less saturated fat than those that do contain meat. Take for instance a simple swap out of regular American beef mince in your Tuesday night tacos with a can of kidney beans instead:
American beef mince

Per 100g

Red kidney beans

Per 100g

224 calories

50 calories

14g of protein

11g protein

5g saturated fat

0g saturated fat
100g of kidney beans contain fewer calories, less saturated fat, and only marginally less protein when compared to 100g of beef mince, making it a nutritious alternative to minced beef.
Meatless meals can help lower cholesterol and reduce your risk of cancer
Plant foods are typically low in saturated fat and some (nuts, seeds, and avocados) are high in unsaturated fats too helping you to maintain healthy cholesterol levels. Plus, recent US research published in the JAMA Internal Medicine journal suggests that people who eat more of a vegetarian based diet have a 22% lower risk of cancer.
It's more eco-friendly
When I started to do the research on this topic I was actually shocked to learn that the whole animal agriculture industry is estimated to produce more greenhouse gases than the whole of the transportation industry combined… how crazy is that?! Then when I started to look into it further I found that the production a 10g of beef protein (this is roughly a 1.5 ounce or 40g piece of steak) releases the same amount of greenhouse gases as the production of 162g wheat protein – which is the equivalent to 46 slices of bread, 49 ounces of uncooked pasta or 22 bowls of bran flakes.
It's cheaper – Preparing a vegetarian meal is most often going to cost you less at the supermarket than a meat based one, meaning it's a great routine to get into if you're on a tight budget. Take soup for example – how good is a big bowl of pumpkin soup with some crusty (gluten free) bread and lashings of butter especially as the months start to cool down? Simple to make, cost effective and 100% plant-based. Here's a recipe I love from Cookie and Kate for a

Creamy Vegan Pumpkin Soup

.  I like to add a few extra elements to give it a bit of an Asian twist – add in some freshly grated ginger with the onion and garlic when you're sautéing and make sure you use the coconut cream instead of the heavy cream. When it comes to serving, top with some lightly toasted crushed macadamias and a sprinkling of coriander – yum!
Your cooking repertoire is only going to increase
You might have a handful of meatless meals up your sleeve but unless you've cooked a lot of vegetarian dinners before, you're more than likely going to discover some new and exciting recipes that you haven't cooked before.
Meatless meals don't have to mean boring
There are so many great ingredients we have access to now which we never did before meaning your meatless meal can be both tasty and filling! Try some of these for some inspiration: