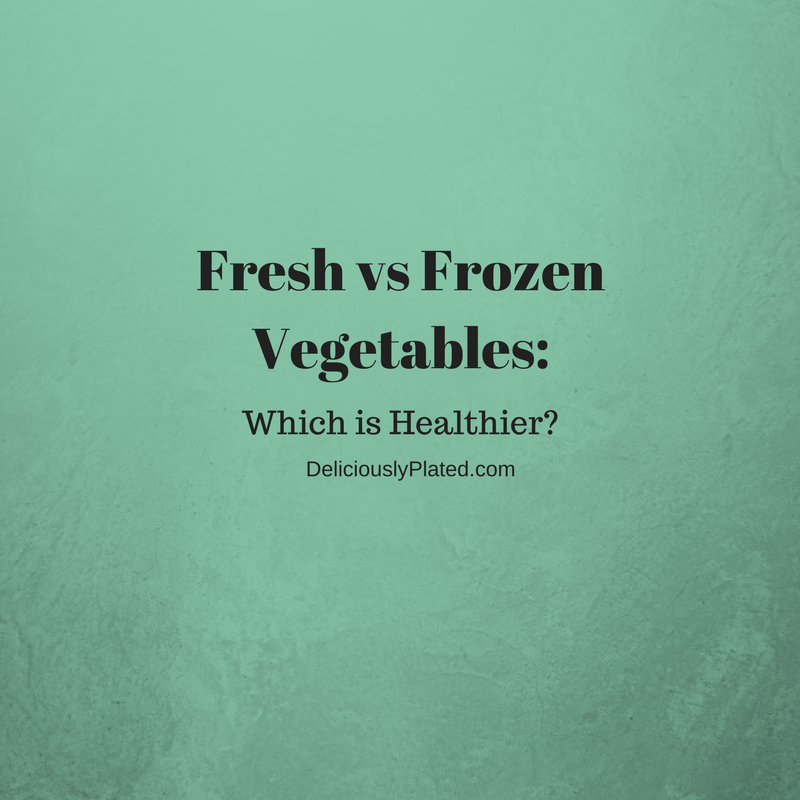 Frozen vegetables; they kind of have an undesirable image right? An option that you turn to when you're time poor or when you haven't had a chance to get to the supermarket, scraping together the food from the back of the pantry and combining it with the food from the depths of the freezer. But don't hang that head in shame – we've all been there.
And while it's still hard sometimes to get past that certain "frozen veggie look"; carrots peeled and diced perfectly into cubes, green beans cut into cubes mimicking the carrots, and then the color sprinkle of yellow corn and red capsicum which seems to be added in just for good measure, the good news is that these days there are a lot more options when it comes to frozen veggies – edamame beans, antioxidant blends, organic mixes, floret mixes, Asian stir-fry mixes, spring mixes, golden mixes… the list goes on.
So is fresh really best?
It's often been thought of, or assumed, that uncooked, raw produce is better than either frozen or cooked food – with the motto "fresh being best" ingrained somewhere deep in the back of our head. And perhaps if we all had amazing gardens in our backyard that were constantly flourishing with seasonal vegetables that we could go and pick straight from with our wicker baskets and whisk away to the kitchen, then yes – fresh is best. However these days, with the amount of time that it takes for our fresh produce to be picked, stored, transported, and then displayed on the supermarket shelves being increasingly long, during that time the nutrient content of our "fresh produce" is diminishing by the day. For example, an apple can be up to a year old by the time you pick it up from the supermarket fresh produce department and add it to your trolley, often being stored in low-oxygen, high carbon dioxide coolers with fungicides or wax coatings applied to prevent rot and deterioration.
While it's true that some studies have shown that foods with high amounts of vitamins B and C are best fresh because of these vitamins being water-soluble (meaning they are easily leached into water during processing or cooking), studies have also found that with some frozen veggies, they actually have just as many nutrients (if not more than) their fresh counterparts. What it ultimately comes down to is that some vegetables are better consumed fresh and if you yourself are not directly picking them from your own garden and putting them straight onto your plate, then some are just simply better suited to being frozen.
For fresh go for bell peppers, citrus fruits, cabbage, and berries
For frozen choose carrots, leafy greens, and broccoli
The frozen vegetable process – from the fields and onto your dinner table
The process of freezing vegetables is nothing new; in fact it was in 1755 that the first small quantity of ice was produced without using "natural cold" and so is often regarded as the beginnings of the frozen food movement. Thus, it may be one of the oldest and most widely used methods for preserving a foods taste, texture, and nutritional value, but what exactly goes on in the frozen food world?
Ultimately the process varies depending on the vegetable, however I still wanted to get an idea on the process that say, my bag of frozen peas go through before I'm reaching into the freezer aisle and popping them into my trolley:
Stage 1: My peas are grown and cultivated.
Stage 2: My peas are picked by hand or automatically, a machine removes them from their shell, before they are moved to the processing plant, which is pretty much always very close to the fields. If they do need to be transported further, then they will be cooled with ice water and packed into ice for transport.
Stage 3: My peas are then washed and blanched in pots of boiling water for a few minutes before being allowed to cool. The blanching process kills the enzymes which may affect the taste of the peas but it's not officially "cooking" them.
Stage 4: My peas are sorted to remove any ones that are not up to scratch before being immersed in salt water where the tender peas float to the top, and old-starchy peas sink to the bottom. The tender peas are sectioned off and sprayed with clean water to remove the salt.
Stage 5: My peas are inspected, making any final discards, before the peas are packed and quick frozen. If frozen before packing, they'll probably pass through a blast-tunnel where cool air freezes them pretty much instantly, or they may be loaded into a metal belt which is cooled from underneath.
Stage 6: They're then stored and transported to their final destination – the freezer.
How to cook frozen veggies to maintain nutrients
So now we know that yes, frozen vegetables are healthy and full of nutrients, but how do we best prepare them to ensure we're keeping as much of the good stuff in as possible? The trick to ensure you're locking in as many nutrients as possible when cooking comes down to two things; heat and water. As vegetables contain water-soluble vitamins that are also heat sensitive, it's through the heating and cooking process that nutrients can be lost, leaching out into cooking water or disappearing into thin air. Here are some simple rules to follow to maximize on the nutrition of your frozen veggies:
Keep the heat down – The longer you heat and cook your vegetables for the higher the loss of nutrient content, so keep the heat as low as possible and cook your frozen veggies as quickly as possible. As we learned with the frozen pea process, most frozen vegetables are blanched before being frozen, meaning they often don't need too much additional cooking once they're thawed through. It's recommended to simply cook them until they have a slightly crisp, crunch to them but are still tender in texture right through.
Get them steaming – Minimize the amount of water you're using to cook your frozen vegetables and never boil them, instead try steaming them. In fact, steaming is a super nutritious way of heating and cooking any kind of vegetable, whether fresh or frozen. A 2009 study which looked at the effects of different cooking methods on the nutrient-dense broccoli found that the glucosinolates, which are naturally found in all vegetables belonging to the cabbage family, were retained in higher levels when the broccoli was steamed, as opposed to boiling, stir-frying, or microwaving (interestingly out of the last three methods of cooking, microwaving was the best for retaining the glucosinolates when compared to stir-frying or boiling).
Braise away – If you do still want to cook your frozen veggies is to cook them in a small amount of liquid and then use that liquid within the meal you are serving.
Frozen vegetable recipes for success – ideas that will wow the table
Whether you're using a bag of frozen veggies as the hero of a main dish or you're just relying on them to add a color-pop to your dish, having a trusty frozen bag of something-or-other in your freezer can be just to go-to you need. Have fun in the kitchen with these frozen vegetables recipe ideas:
Whipping up a snack: Edamame hummus – This yummy take on a standard hummus stars a frozen packet of edamame beans and is an easy gluten free, vegan, and dairy-free dip to add to the party platter table.