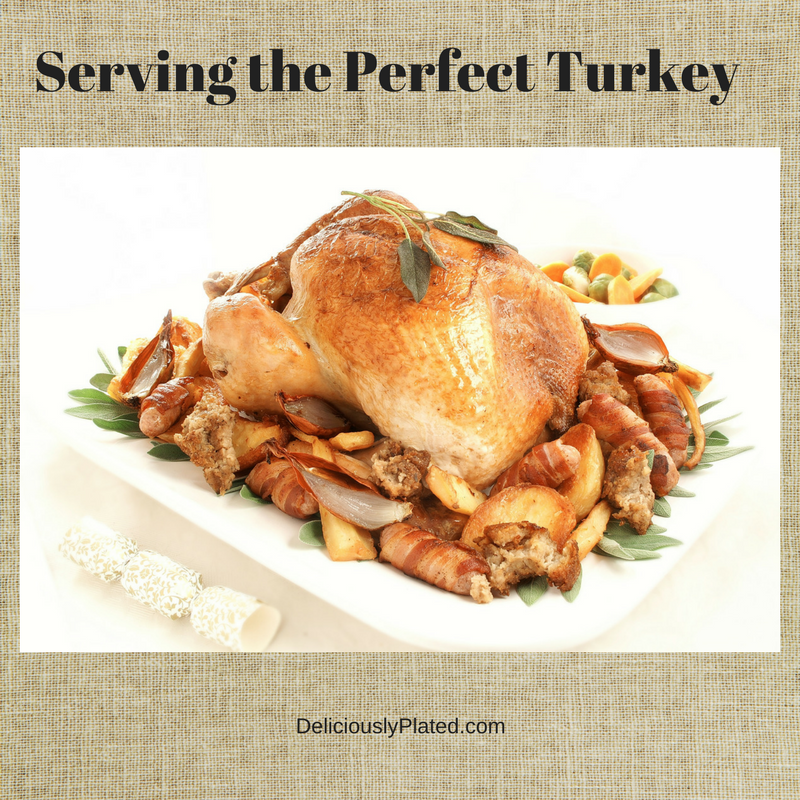 Thanksgiving – it has to be one of my favorite holidays of the year. The way it brings people together over the sharing of food, and how we all take a moment to appreciate everything that we have to be grateful for. Simply put, it's what life is all about; the people, the sharing, the love. And the food, of course, the wonderful Thanksgiving spread – all those sides, the sauces, the starters, the desserts, and of course, the fabulous centerpiece that is the perfect turkey.
Cooking the perfect turkey can be a stressful, high-pressure responsibility and let's face it, sometimes you might just wish that it was your job to bring one of the scrumptious sides instead (like these yummy Sautéed Green Beans with Curried Pecans  or these Pumpkin Spice Frosted Brownies). Being the main focus of your celebratory feast, everyone has their own method for how to cook a turkey and their own ideas as to what creates that "perfect" end result; skin glistening, moist and succulent meat that holds together as it's carved, and complemented with a delicious stuffing – something that screams "photograph me, I'm Instagram worthy!"
Whether it's your first time cooking the turkey or your fifteenth, it's always helpful for a refresher on the key tips for cooking the turkey for your perfect Thanksgiving dinner:
Get yourself off to the right start – Buying a turkey
There are a number of different ways in which you can buy your turkey; fresh, frozen, organic or heritage; from the supermarket, farmers market, or direct from the farm itself. Each has their upside so think about what you need and what will be easiest for you before making your purchase. For instance, if you're trying to get as much done as far in advance as possible, then you can buy your frozen turkey now and store it in your freezer, making for less run around in the days leading up to Thanksgiving. If you're choosing to buy directly from the farm or fresh from the farmers market, you'll need to order well in advance and ensure you're free to pick it up as close to Thanksgiving Day as possible.
Heritage turkey: One of the most expensive birds you can buy, these turkeys are a breed which dates back generations and typically have larger legs and thighs. They are also leaner and older, and some describe their meat as having more of a gamey flavor, so if this isn't something that's to your taste, then keep it in mind.
Pastured turkey: These birds will have been pasture-raised, meaning that the turkey has been raised primarily outside on an open pasture (which shouldn't be confused with "free range" which is different). Much like the Heritage birds, these are also smaller and leaner than your typical commercial bird and can have a stronger flavor as well.
Organic turkey: These turkeys are raised to meet an organic standard that includes only being fed organic feed (ie. food free from pesticides, herbicides, chemical residues, genetically modified grains and animal by-products). They also need to be raised without the use of any antibiotics or growth-hormones and are free range. Look for the USDA organic seal which certifies that your turkey is 100% organic.
Fresh turkey: A fresh turkey has never been chilled below 26 degrees, and it's important when buying this bird from your supermarket to always check the sell by or use by date – just because it's been labeled "fresh" doesn't always mean it is. Look for the healthiest-looking bird in its weight range that has bright looking skin. Some frozen turkeys can be sold defrosted so keep your eyes peeled for the "previously frozen" sticker as well.
Frozen turkey: These turkeys will have been flash or snap frozen to below 0 degrees straight after butchering. Plan for a full 24 hours per 5 pounds of turkey if you're defrosting in the refrigerator, or you can help the defrost process along by submerging the turkey in cold water that you change every half hour; this takes the defrosting time down to 30 minutes per every 5 pounds.
Buy the right size turkey
The golden rule – aim for 1 to 1 ½ pounds of turkey per person – this should ensure you have some of the all-important leftovers as well. Just make sure you're taking into account the bird's bones as well; for 8 people I like to go with a turkey that's between 12 to 14 pounds.
Preparing the perfect turkey – a little bit of TLC goes a long way
Brining – Moisture is the key to creating that perfect end result and putting due time and effort into the preparation stages will go a long way. Brining is your friend – simply combine water, salt, sugar, and flavorings and submerge your turkey for around 24 hours. This recipe from Genius Kitchen makes for a simple and easy turkey brine that works a treat.
Rub a dub dub – Once you've soaked your turkey in the brine, remove it and pat the skin dry to remove any excess moisture. Then it's time to dress it up – rub your turkey bird all over with butter or oil, salt, pepper and any other seasonings that you want that will complement the other dishes featuring in your Thanksgiving Day spread. If you're looking to go that extra step, you can even place knobs of butter underneath the turkey's skin; these will melt during the cooking process and help to add both more flavors to the meat as well as lead to a crisper, more golden brown turkey skin.
Let it rest – Ensure you allow the turkey to come to room temperature if possible before you put it into the oven – this puts the turkey meat under less of a shock (going from super cold to super-hot can make the meat tense up) and helps the bird to cook more evenly throughout because it's the same temperature on both the outside and the inside of the bird.
Get stuffing, or not – You may choose to cook your stuffing inside your turkey or in a separate pan which will help your turkey to cook quicker leading less to the chance that the turkey breast and white meat will dry out. Regardless of whether you're stuffing the bird with your favorite family stuffing recipe or not, you should always ensure that you're filling the turkey's cavity with something that's going to pack more flavor in – think onions, garlic, herbs and spices.
Trussing and tying your turkey – Getting this part right will be a major contributing factor as to the whether your turkey cooks evenly as it pulls the wings and legs together towards the body of the turkey, stopping them from separating outwards. If you're cooking a large size bird then I definitely recommend not skipping this step, but don't be daunted, it's quite an easy task which is easily achievable using some good ol' kitchen twine. Simply tuck the wings of the bird underneath the body and tie the legs together with kitchen string to create a tight package. Still in doubt?

Check out this video from Boston Chef and Restaurateur Barbara Lynch, for a step by step guide on how to truss a turkey

.
Cooking the perfect turkey – Baking and basting
Create the perfect tray – Lining the bottom of a baking tray with an array of vegetables such as onions, celery, carrots, and garlic is a great way to add extra flavor to the turkey. It also will add more flavors to the juices that run out of the bird and will form your gravy, as well as provide an easy way of keeping the bird off the bottom of the tray allowing for the circulation of air that will help to crisp up your turkey's skin.
Get that oven hot hot hot – For perfectly crispy, browned skin, make sure you're putting your turkey into a preheated, hot oven. Start it around the 425-475 degrees mark for about 20 minutes and then reduce the heat to 350 degrees for the rest of the cooking time.
To baste or not to baste – that is the controversy. As basting means continually opening the oven door, many people these days seem to steer clear of this technique in their turkey cooking method. If you've done the prep work and brined your turkey as well as coating it nicely in butter or oil then you'll achieve moisture this way, but I also opt for basting my turkey a few times throughout the cooking process as well.

Take it out at the right time and let it rest – A meat thermometer really is a good investment when it comes to making sure your bird is cooked all the way through. Insert into the thickest part of the turkey which is normally around the thigh – 165 degrees means it's done. As with when you're roasting any meat, resting is so important as it helps to lock all the juices in the meat as it reduces in temperature. Cover the bird with foil and let it rest for at least 15 minutes before carving. Also, remember that your turkey will continue to cook during this time as well.