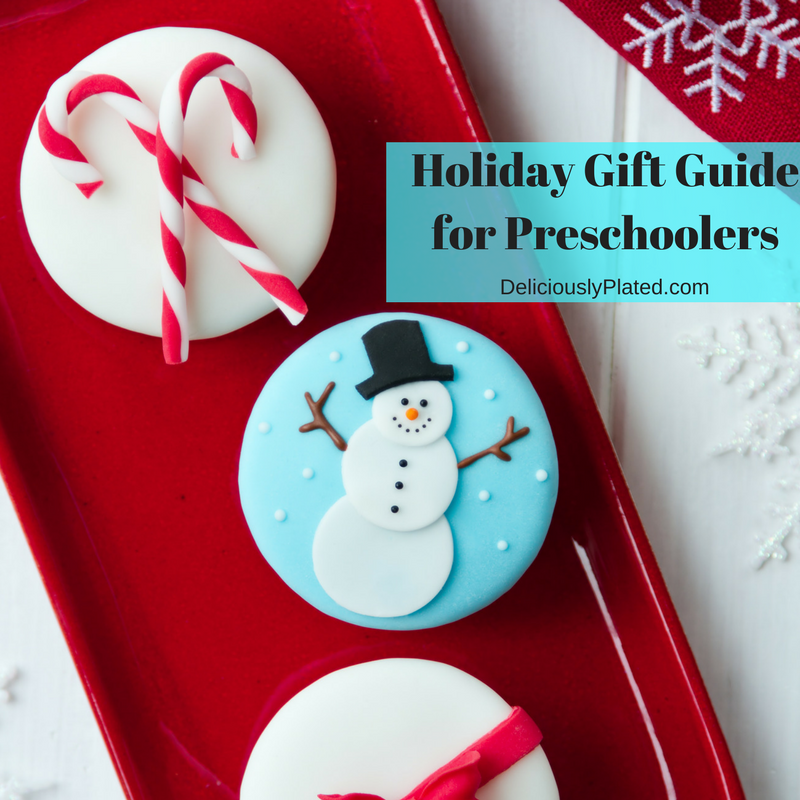 This holiday gift guide for preschoolers contains affiliate links that help support my blog
Can you believe it?
It's that time of year again.  I really can't believe Christmas is 5 weeks away!  Crazy, huh!  Seems like it was just the beginning of 2017.  If you are like me holiday gift giving is fun for you.  Picking out special gifts for everyone is rewarding.  I love seeing someone smile and truly enjoy the gift I chose especially for them.  What I don't love about the holiday season is the crowds in the stores.  I have never and will never camp outside to get into a store to get a deal.  Not that I don't shop smart and love a good deal.  Lines and crowds are not for me though.  I adore online shopping and it seems that most mom's I talk to say the same.  It's too hard to purchase and hide the gifts when the kids are shopping with you.  Or to get a babysitter to go shopping.  If I get a babysitter, momma is going out!  I have put together a quick gift guide to help you out this year.  And I divided it by price so you can stay on budget 😉
$100+ gifts
The Step2 Euro Edge Kitchen Kids Play is an awesome set!  Last year my son asked for a kitchen set and it still by far is one of his favorite toys!
The Fisher-Price Think & Learn Smart Cycle is a great way to expend some energy over the cold winter months!

$50-$100 gifts
The Step2 Art Master Kids Desk comes in at $65.  This is a great way to encourage creativity and art.  All while keeping that creativity contained in one tidy area!
The PJ Masks Headquarters Playset is on the top of my son's list this year!  I must admit, I enjoy this show too 🙂
Because you need somewhere to store all the new toys.  The Little Tikes Bright 'n Bold Toy Chest can stand up to any preschool boy!
Even I want this awesome Fort.  No more pulling my kitchen chairs out of the dining room, lol!
$20-$50 gifts
This cozy comfy critter blanket is sure to please!  All the Paw Patrol characters are available and it's only $29.99!
This Little Tikes Tough Workshop is sure to bring hours of enjoyment!
Blaze and the Monster Machines Animal Stunts Speedway is certainly a winner for any preschool-aged boy.  And it's under $35!
The Paw Patrol Sea Patrol Vehicle comes in at $45
$20 and Under
This Paw Patrol – Snuggle Up Pup is one of my son's favorites!  
Take a trip down memory lane with Don't Break the Ice. I loved this game as a kid!
Snuggle in and read this Paw Patrol Big Book of Why together this winter.
The Clifford the Big Red Dog Kitchen Science Kit is fun for the whole family.  Teach your kids about science while playing!
Daniel Tiger's Welcome to Mainstreet game will be great fun for everyone!
Disney Princess Candy Land will be the star of any girls' Christmas!